OPPO officially launched its latest flagship cellphone, OPPO Reno8 T series on February 7, 2023. This cellphone features a cool camera and design sector. This body carries a fiber glass design with a leather texture that gives an elegant impression. Not only that, OPPO Reno8 T series Also topped up in several other sectors, including battery and performance.
OPPO brought this Reno8 T cellphone to pamper users who have an interest in the creative industry, including content creators. Want to know what advantages are offered by one of the classy cellphones from OPPO? Check out the full discussion below.
Specification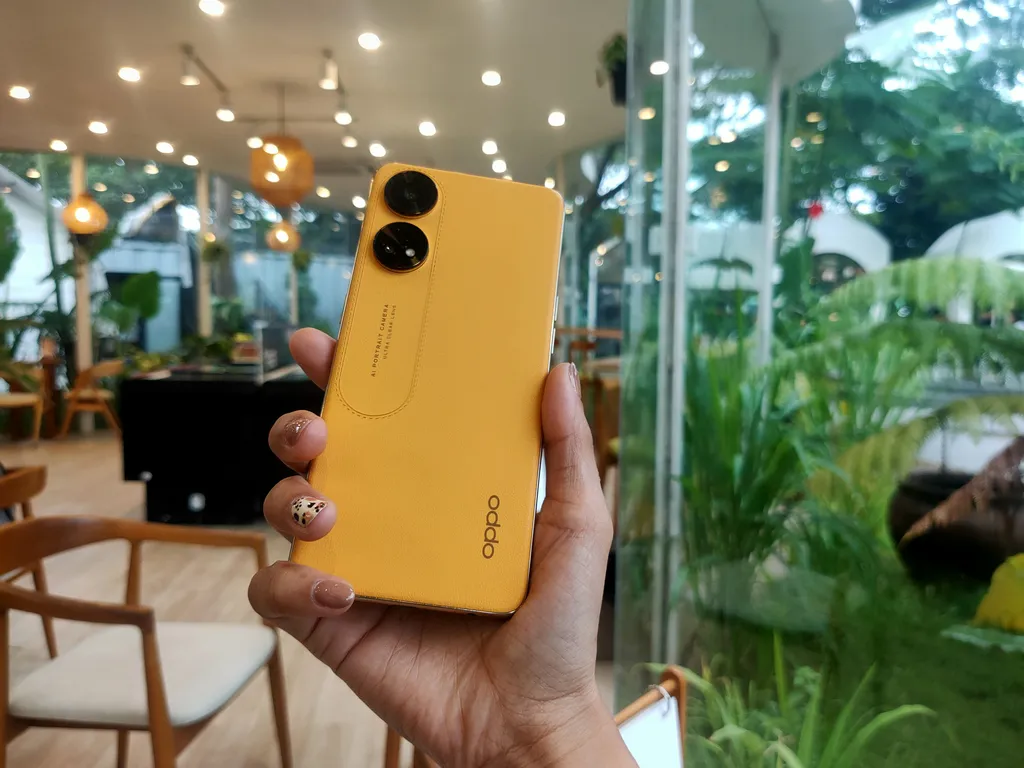 One of the advantages of OPPO Reno8 T series it's on the camera. OPPO Reno8 T presents several different lenses, namely a 100 MP portrait camera, a 2 MP micro lens, a camera lens depth 2 MP and 25 MP front camera lens. This camera sector is certainly more than enough to answer all your needs. Especially if you work as a content creator.
Its 100 MP portrait camera is capable of producing high-quality photos; in fine detail. Meanwhile, the 2 MP micro lens from this cellphone can magnify from 20-40x. So, you can take photos at close range, photograph objects in detail.
Your photos will get better thanks to the presence of interesting features such as AI Portrait Resolution, HDR Selfies, AI Portrait Retouching, Flash Snapshots And Bokeh Flares Portrait.
Meanwhile, the OPPO Reno8 T 5G comes with a 108 MP portrait camera. Of course the quality is no less good than the OPPO Reno8 T.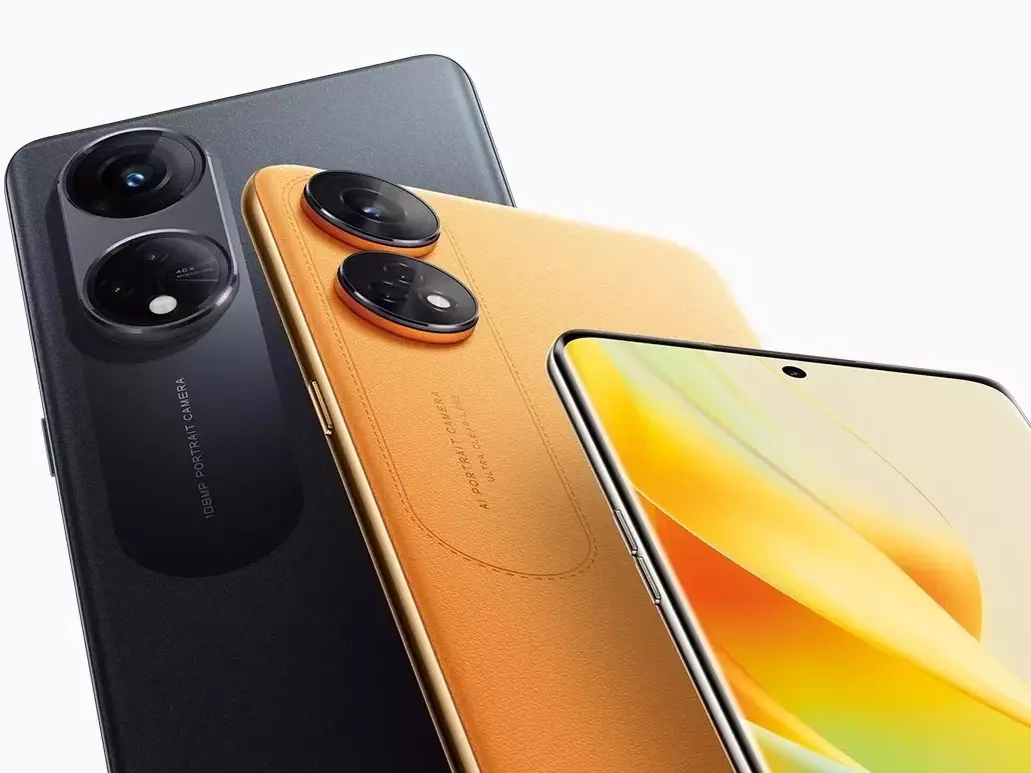 OPPO Reno8 T series also superior in terms of design. This phone comes in two different color options: Sunset Orange And Midnight Black. Both have their own interesting side. HP OPPO Reno8 T with color Sunset Orange presenting a sexy rear body, thanks to the design presence fiberglass-leather.
This design makes the rear body cover has a light leather texture. Apart from giving an elegant impression, this back cover design also leaves no fingerprint marks.
No less cool, OPPO Reno8 T with color Midnight Black brings an attractive design. The rear body of this cellphone carries a design OPPO Glow. The design makes the appearance of the rear body of the cellphone look smooth and shiny. Plus, the reflective ring embedded in the camera lens makes the cellphone emit a beautiful shine.
The camera lens section is also equipped with a technology called Orbit Light. You can count on it as an alert when notifications appear. Change color Orbit Light by category or notification type, according to your needs. For example, red for chat from your boss, or blue for messages from family and friends.
Different colors, different weight. OPPO Reno8 T color Midnight Black has a weight of 180 grams with a thickness of 7.80 millimeters. Meanwhile, OPPO Reno8 T Sunset Orange weighs 183 grams with a thickness of 7.85 millimeters. Both are equally slimlight and comfortable to hold in hand.
OPPO Reno8 T series delivers outstanding performance in its class. This is thanks to the support of the 6th generation Snapdragon processor. RAM support which can be easily expanded up to 8 GB is also able to offer the best performance. This latest OPPO HP series also has large storage memory, namely 128 and 256 GB for the Reno8 T 5G series and 256 GB for the OPPO Reno8 T series.
OPPO Reno8 T operating system performance series it also becomes smoother with it dynamic computing engine. OPPO also presents 48-Month Fluency Protection. In short, OPPO offers a smooth performance guarantee of up to 48 months. So, users can use OPPO Reno8 T series for a long time, without worrying about having problems with the device.
OPPO Reno8 T performance series It is also supported by a large capacity and durable battery. OPPO Reno8 T carries a 5000 mAh battery with SUPERVOOC 33W fast charging technology. Meanwhile, the OPPO Reno8 T 5G is equipped with a 4800 mAh battery and technology fast charging SUPERVOOC 67W.
You certainly don't need to worry about the length of time it takes to charge. Thanks to technology fast charging embedded, OPPO Reno8 T is capable of charging up to 100% in just 67 minutes.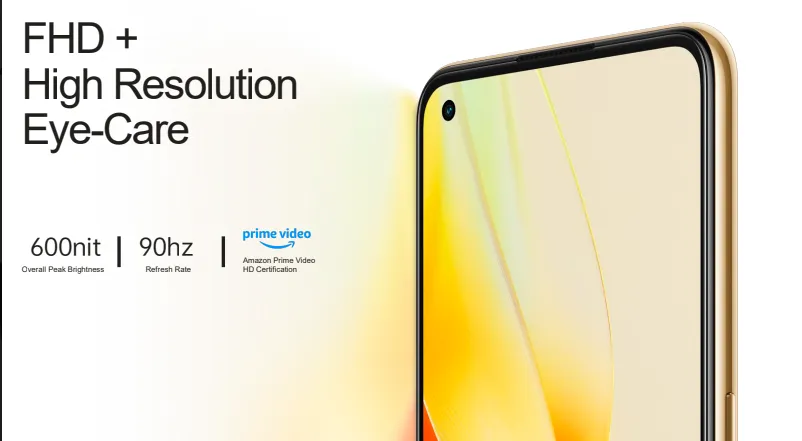 OPPO Reno8 T series also suitable for those of you who like to watch movies. On the OPPO Reno8 T, a 6.4-inch AMOLED screen is embedded refresh rate 90-Hz. Meanwhile, the OPPO Reno8 T 5G has a 6.7-inch OLED screen with refresh rate 120-Hz. Both have a clear visual display. You can do too scrolling screen without lagging.
OPPO Reno8 T audio sector series It is also capable of producing good and clear sound quality. Technology UltraVolume Mode can increase sound volume up to 40%.
Just info, OPPO Reno8 Tseries already using Color OS 13. There are some interesting features that you can use. One of which is Screen Translate; a feature that will help you to translate text on the HP screen without complicated.
Pricing and Availability
OPPO Reno8 T is available in Indonesia. This cellphone is marketed at IDR 4,899,000 starting February 14, 2023. You can also order the cellphone unit from February 7-13, 2023 through the system pre order.
During period pre order Here, you will get various benefits and attractive offers. Some of them are cashback worth IDR 500,000 and OPPO Enco Buds2.
You can buy OPPO Reno8 T at the OPPO Store, e-commerce And partners OPPO Indonesia's official retailer. Meanwhile, the OPPO Reno8 T 5G will be introduced to the public in the coming weeks.
OPPO Reno8 T specifications
Screen
AMOLED 6.43 inches
Chipsets
MediaTek Helio G99
RAM
8gb
Internal Memory
256GB
Camera

100MP (wide)





2MP (microscope)





2MP (depth)


Battery
LiPo 5000 mAh
OPPO Reno8 T 5G specifications
Screen
6.7 inch OLED
Chipsets
Qualcomm Snapdragon 695
RAM
8gb
Internal Memory
128GB, 256GB
Camera

108 MP (wide)





2 MP (depth)





2MP (microscope)


Battery
LiPo 4800 mAh