Not only known through the range of products flagship Galaxy S seriesSamsung also visited the market smartphones affordable with Galaxy A series. This time, Samsung Electronics Indonesia (SEIN) has just released the Samsung Galaxy A14 5G on Tuesday (24/01/2023).
Smartphones at a release price of IDR 2 million, it is announced as the most affordable cellphone from Samsung that supports the 5G cellular network. Presented with chipsets powerful and good camera quality in its class, making the Samsung Galaxy A14 5G worth a glance as daily drivers You're next without worrying about breaking your pocket.
This phone is also an attractive option for consumers who want upgrades from LTE to 5G networks, considering that the fifth generation of cellular networks has started to bloom in Indonesia. What's more, this cellphone is packed with quite a complete arsenal to support a modern lifestyle, such as content creation, playing games, and capturing moments through photo shots. So, what are the advantages offered smartphones made by Samsung? Check out the following.
The Samsung Galaxy A14 5G Comes with 5G Network, Stunning Performance and Classy Camera
There are a number of advantages that canhighlights from Samsung Galaxy A14 5G. The first is usage chipsets 5G in the form of the MediaTek Dimensity 700 which can also be found on its predecessor, the Samsung Galaxy A13 5G.
Chipsets is built on a 7 nm fabrication, featuring an eight-core processor (octacore) consisting of two Cortex A76 cores (2.2 GHz) and six Cortex A55 power-efficient units (2.0 GHz). Accompanying these eight CPUs is a GPU in the form of the Mali G57 MC2 which is ready to run graphics activities without problems.
Use chipsets MediaTek Dimensity 700 is different from the global variant which uses Exynos 1330. Apart from that, the device is also packed with an internal storage capacity of 128 GB and 6 GB RAM, allegedly capable of carrying out activities multi-tasking as split-screen and conveniently open and close applications.
If necessary, there is also a RAM Plus feature that can "borrow" some of the internal memory to be used as virtual RAM. Borrowed virtual RAM options are 2GB, 4GB, up to 6GB.
Secondly, the Samsung Galaxy A14 5G has a sophisticated camera that can be used to take fun pictures or create content. Behind it is embedded configuration Triple Camera which contains a 50 MP main sensor (f/1.8), a 2 MP macro camera (f/2.4) and a 2 MP camera depth sensors (f/2.4).
This main camera uses technology Quad Bayers to concatenate four adjacent pixels into one large pixel, so that it can output output 12.5 MP image. Not only for taking pictures, this camera is also quite decent for recording video because it supports up to 1080p resolution at 30 FPS.
The front camera has also been designed to be able to capture the best side of the user's face, relying on a 13 MP (f/2.0) camera sensor with support for recording up to 1080p resolution at 30 FPS. Unfortunately, Samsung does not disclose the type of sensor used in each of these cameras.
Then the third, connectivity on the Samsung Galaxy A14 5G is no less good than other cellphones in the same class. The device is equipped with NFC (NearField Communications) which will support users' modern lifestyles, such as when they want to do digital transactions, check eMoney balances, and so on.
The device also carries the Dual SIM 5G feature which is designed in the form 3-card slotso that users can still insert a microSD card up to 1 TB without sacrificing the second SIM.
As for the screen, the Samsung Galaxy A14 5G offers a 6.6-inch PLS ICD panel at Full HD+ resolution, aka 1080 x 2408 pixels, at a pixel density of 400 ppi and an aspect ratio of 20:9. This is an improvement worth waiting for, considering that the Samsung Galaxy A13 5G, which is its predecessor, is only packed with a 720p HD+ screen resolution.
Given the performance is sufficient for gamingSamsung doesn't want to be left behind in presenting it refresh rate 90Hz. This is for making frame rate in games feels smoother, and performs scrolling the interface also feels smooth and fluid. Not only that, touch sampling rate-it is at 180 Hz so that the screen can respond to the touch of the user's finger more quickly.
Smartphones it also offers the Android 13 operating system covered in One UI Core 5. SEIN (Samsung Electronics Indonesia) promises twice upgrades Android OS version, so the phone can support up to Android 15. Also, the phone is supported by Masa updated security patches for 4 years.
In terms of the battery, the Samsung Galaxy A14 5G is packed with a sufficient capacity of 5,000 mAh, which allegedly can last up to 2 days of normal use. If it runs out, the user can feel a fairly fast charging thanks fast charging 15W via USB Type-C 2.0 port. Of course, this charger is also included in the sales package.
Then, what is no less interesting to discuss is the design. In my opinion, the appearance of the Samsung Galaxy A14 5G feels that way seamless because it doesn't show camera bumps that's so obvious. The arrangement and shape of the design was made more fresh from the Samsung Galaxy A13 5G which became its predecessor.
This cellphone carries an Infinity-U Display front camera design or what is commonly called waterdrop notchavailable in several cool color variants such as Black, Silverand also Dark Red.
Samsung Galaxy A14 5G Price and Availability
The Samsung Galaxy A14 5G is priced at a release price of IDR 2,999,000 for the only variant, namely 6GB RAM + 6GB and 128GB storage. Samsung provides the program flash sales which cut the price to Rp. 2,899,000, – aka the difference of Rp. 100,000 is cheaper.
This period lasts from 20-30 January 2023 and can be obtained through samsung.com/id, as well as the Samsung Official Store at blibli and akulaku. In addition, users can also enjoy direct bonuses in the form of a free 2-month YouTube Premium subscription worth IDR 118,000 and 3 months Spotify Premium worth IDR 165,000.
Specifications for the Samsung Galaxy A14 5G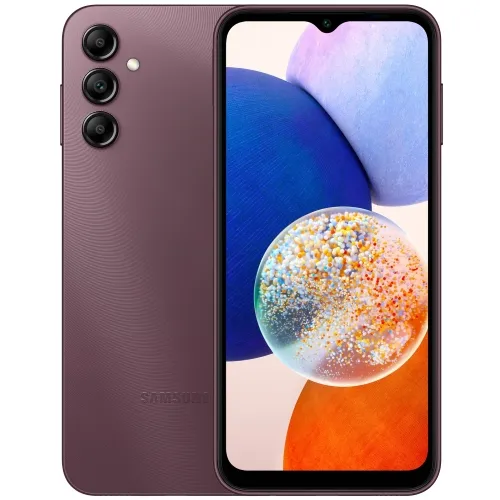 Screen
6.6 inch PLS LCD
Chipsets
MediaTek Dimensity 700
RAM
6gb
Internal Memory
128GB
Camera

50 MP (wide)


2 MP (macro)



2MP (depth)


Battery
LiPo 5000 mAh
Excess
Read here