Who does not recognize the name WD or Western Digital. WD is a well-known company from the United States which is known as a manufacturer of accessories and computer hardware. Not only HDD, WD is also quite serious in producing SSD for the market. In fact, WD even acquired SanDisk in 2016.
This SSD product from WD has competitive quality and performance in its class. Therefore, we feel lucky to have the opportunity to try one of the best products in its class. The product has the name WD_BLACK SN750 SE NVMe SSD 1TB.
The WD_BLACK SN750 SE NVMe SSD 1TB is positioned as a PCIe 4.0 product in the class entry-level. So, it's not surprising that it won't perform as well as the SN850 as a product flagship-his. But don't worry, the performance produced by the WD_BLACK SN750 SE NVMe SSD 1TB is quite good and fast in its class.
Instead of being curious, just look at the following WD_BLACK SN750 SE NVMe SSD review. Before that, let's look at the specifications it offers first.
WD_BLACK SN750 SE NVMe SSD 1TB specifications
Capacity: 1TB (250GB, 500GB, and 1TB available)
Interface: PCIe Gen4 x4 with NVMe 1.4
Voltage:
Operating Temperature: 0°C to 70°C
Form Factor: M. 2
Heavy: 7.5 grams
Dimensions: 80(L) x 22(W) x 2.38(H)mm
MTBF:
Warranty: 5 year limited warranty
TBW: 600TB
If you look at the specifications, the interface used by the SE series is newer, namely PCIe Gen4 x4 with NVMe 1.4. Meanwhile, the non-SE series still use the PCIe Gen3 x4 interface. In other words, the resulting transfer speed is also fast.
Meanwhile, for compatibility, the SE series is still using form factor M.2 with PCIe and NVMe interfaces. If you are still confused, please read the article regarding SSD types which was discussed previously.
Apart from that, the specification information also contains the TBW of the unit being tested, namely the WD_BLACK SN750 SE NVMe SSD 1TB. The WD_BLACK SN750 SE NVMe SSD also has variants storage another is 250 GB with 200 TBW. And there is a 500 GB variant with 300 TBW.
For information, TBW or TeraByte Written is the usage limit of SSD writing ability. Simply put, the more often the SSD writes data, the less the service life of an SSD.
As an illustration, the WD_BLACK SN750 SE NVMe SSD 1TB that we tested is claimed to have a TBW of up to 600 TB or 600,000 GB. When an SSD writes up to 100 GB of data, the age of the SSD is reduced to 599,900 GB or 599 TB 900 GB.
This amount is quite large and is able to provide an SSD usage age for quite a long time. In fact, according to his claims, this SSD can last up to 5 years, or more depending on usage.
Interestingly, the WD_BLACK SN750 SE NVMe SSD 1TB already offers a 5 year warranty. However, to get an official guarantee from WD, of course you have to buy an original or original product. The way to tell the difference is also quite easy, because the original product has an ORI (Original Official Indonesian) sticker with a guarantee.
The question is, if the TBW capacity is reached, what will happen to the SSD? If this happens, the SSD will no longer be able to write data, but will still be able to read data. In other words, SSD can no longer function as usual.
Test Configuration
Prior to testing, it is necessary to inform you that this 1TB WD_BLACK SN750 SE NVMe SSD was tested on a Desktop PC configuration. Test results and performance will not show the same results if used on another computer. There will be a slight difference if this SSD is used on a PC or laptop with different specifications or configurations.
This WD_BLACK SN750 SE NVMe SSD 1TB was tested on a Desktop PC with the following specifications.
Processor: Intel Core i7 10700F 2.90GHz
VGA: NVIDIA GeForce GTX 1650
RAM: 16.0GB Dual-Channel DDR4 @ 1330MHz
Motherboards: Micro-Star International Co. Ltd. B460M PRO (MS-7C88) (U3E1)
SSDs 1: T-Force 500GB SATAIII
SSDs 2: WD_BLACK SN750 SE NVMe SSD 1TB
The SSD 1 used is the main SSD that Windows boots from. SSD 2 is the SSD tested in this review.
Disclaimer:

This WD_BLACK SN750 SE NVMe SSD supports the or interface interfaces PCIe Gen4 x4. Meanwhile, the computer being tested uses motherboards MSI B460M PRO only supports interfaces PCIe Gen3. Because of this, the test results will be slightly different if this SSD is installed in motherboards already supported interfaces PCIe Gen4.
Box Contents
When the WD_BLACK SN750 SE NVMe SSD 1TB arrived, it was wrapped in a black box like the picture above. The box design looks pretty convincing with the words WD_BLACK covered by a picture of the item.
In addition, in the box there will be various general information that you can read about the SSD. The information starts from the capacity, warranty, information as game drives and disc gameetc.
The box contains only the 1TB WD_BLACK SN750 SE NVMe SSD accompanied by a small user manual.
Design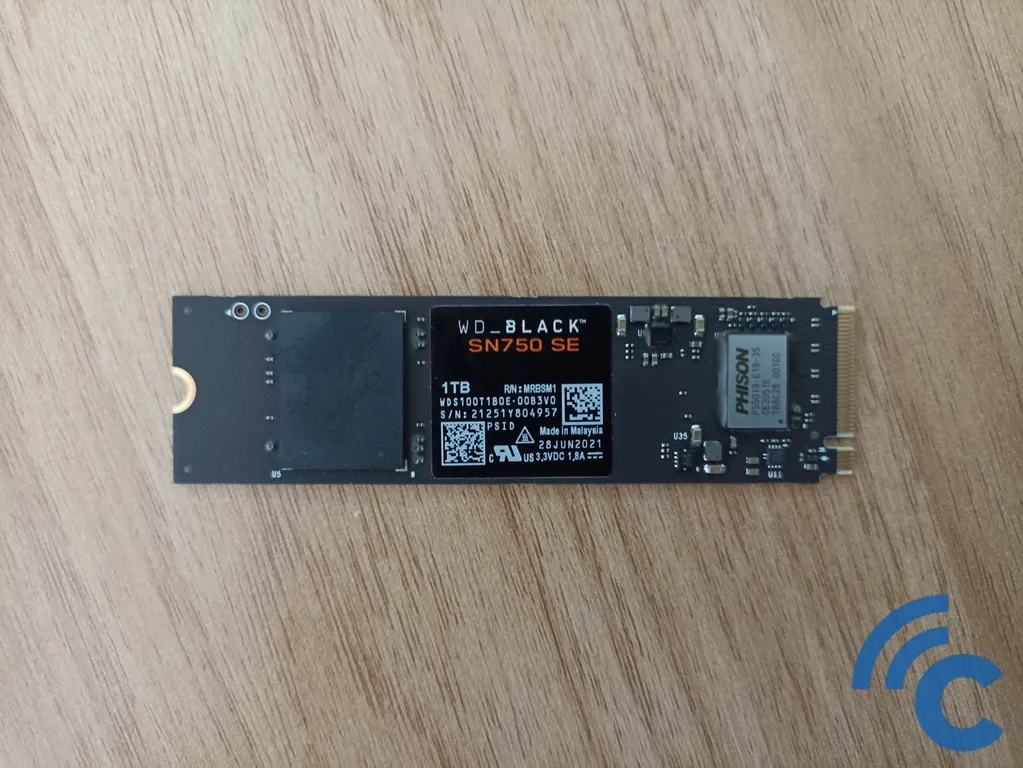 Like the M.2 NVMe SSDs in circulation, this form of SSD tends to be common and common. It is in the form of a long sheet with product information attached. For color boards This SSD is pitch black as the name suggests.
In addition, this SSD has a PCB with one gap in the port. Then the appearance is also quite concise without any heatsink on the SSD body. When installed, the color and design of this SSD is not visible. Because, motherboards already provided heatsink specifically as a safety and cooling.
This is because the WD_BLACK SN750 SE NVMe SSD 1TB may generate quite a lot of heat. However, this is normal for fast SSDs. You just need to make sure that the air circulation is deep case You are well installed.
Feature
This WD product is indeed made to support activities gaming and entertainment. Because, by using the PCIe Gen4 interface, the storage capacity offered is quite extensive. You can store games and other large files on this SSD.