On November 23, 2022, ASUS again launched its newest laptop. This time it's not a laptop for design, gaming, or any other high-end laptop, but a unique affordable laptop. Why is it unique? The reason is, this time ASUS provides a Snapdragon processor into the laptop.
The processor that is more often heard of among HP is claimed to have many advantages and is suitable for laptops. Especially if you need a laptop that has high mobility, the Snapdragon-powered ASUS ExpertBook is perfect for you.
This is also in line with Jimmy Lin's statement, "ASUS really understands that in this modern era, computing devices with high mobility are increasingly needed. ASUS ExpertBook B3000 is our answer to that need."
He also added, "The ExpertBook B3000 not only has a flexible detachable design, but also a compact and lightweight design, and has a long battery life. These features make this laptop the right device for users who have high mobility."
So, we can put our hopes on the ExpertBook B3000 as a laptop that is light, compact, but has good quality. Its that true? Let's explore in full below!
Also Read: 9 Advantages of the ASUS ExpertBook B9 Laptop, Lightweight with Strong Performance
Claimed Qualified Snapdragon Performance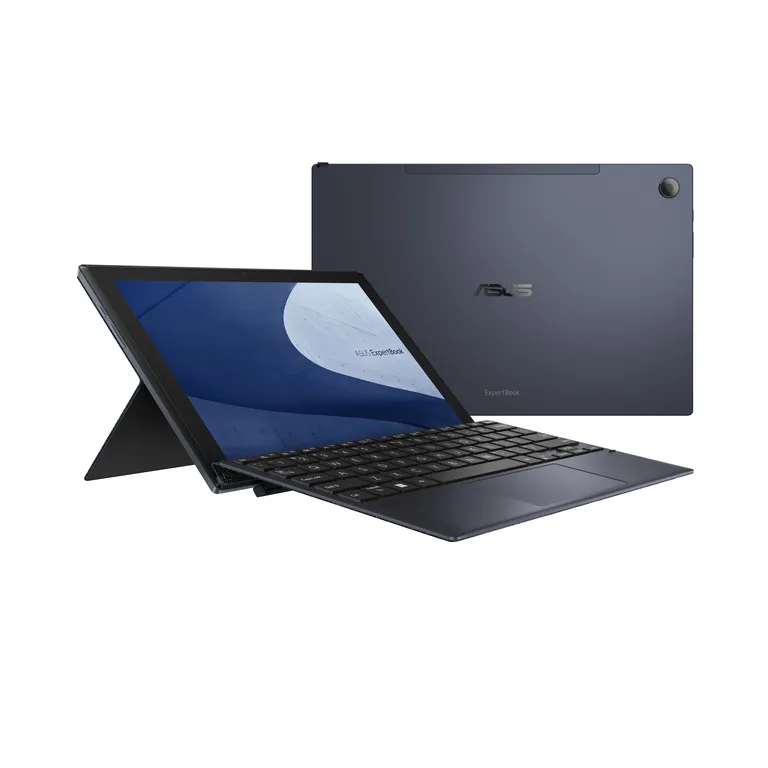 Interesting and unique, maybe two words that can describe the performance of this ASUS laptop. The ASUS ExpertBook B3000 supports its power with a Snapdragon CPU, more precisely, Qualcomm® Snapdragon™ 7c Gen 2 (1MB L3 Cache, up to 2.55GHz, 8 cores).
This one processor uses an architecture known as ARM. He is stated to be able to save battery power properly. In fact, it can accompany its users all day. Not only the processor, this performance is also equipped with a Qualcomm® Adreno™ GPU 618.
The GPU is also claimed to be able to run efficiently so it doesn't suck up a lot of battery power. Meanwhile, in the RAM section, ASUS provides a capacity of 8GB 8G LPDDR4X on board. Then, for storageit is embedded with a capacity of 128G eMMC.
Even more fun, the OS that ASUS has provided for this laptop runs on Windows 11 but its use is similar to that of a device mobile. In other words, the ASUS ExpertBook 3000 laptop is suitable for everyday activities.
Flexible and Portable
ASUS ExpertBook 3000 really touts in terms of portability and flexibility. Therefore, this laptop is designed with a compact and lightweight body. It only weighs 590 grams. Meanwhile, the thickness is only 0.9 cm. In this way, you can easily carry your laptop anywhere.
Looking at the design problem, the ASUS ExpertBook 3000 is equipped with a unique design detachable. That is, it is very flexible because it can function as a laptop or tablet. Part keyboards can be easily removed using a magnetic system.
Even so, design keyboards on this laptop it is still comfortable to type by relying on keytravel 1.5mm. For the back of the screen, there is what is called the ExpertStand Cover. This feature functions as a protector as well as a holder so that the laptop can stand upright.
Another advantage of the ExpertStand Cover is that it can be used vertically or horizontally according to the needs and comfort of the user.
Satisfied with discussing behind the scenes, now we turn to the front of the screen. ASUS ExpertBook B3000 already uses technology touchscreens for easy navigation. The touch screen has been equipped with a stylus which can be stored in a special compartment on the laptop body.
Sophisticated, because when you put the stylus in the compartment, the stylus will automatically charge. It doesn't take long to charge, only takes 15 seconds for 45 minutes of use.
Another additional feature is the camera. There are two cameras embedded in this laptop. First, the camera is on the front of the screen to make video calls or meetings. Second, the camera on the back is for taking pictures and recording videos like a tablet or cell phone.
The front camera is equipped with a resolution of 5MP, while the rear camera has a resolution of 13MP. Complete enough for a 7 million laptop.
Features Perfect for Study and Work
Apart from its body and performance, the ASUS ExpertBook B3000 also proves something else that this is truly a laptop that is suitable for both work and study. The reason is, ASUS has equipped this brand-new laptop with several excellent features.
Some of them are AI Noise Cancellation. This feature can reduce noise by using an artificial intelligence (AI) system, so that users can carry out online events more smoothly. Then, there is also a microphone muting feature with a special button in the section keyboards-his.
Another feature, the camera on the ASUS ExpertBook B3000 has 3DNR (3D Noise Reduction) technology which allows the system to significantly reduce camera noise. In addition, this technology is claimed to be able to make the visual display clearer even in low light conditions.
Meanwhile, in terms of connectivity, the ASUS ExpertBook B3000 is equipped with ASUS WiFi SmartConnect technology where you can directly connect to a WiFi connection smoothly. There is also a Bluetooth® 5.1 feature to connect various devices such as a wireless mouse or headphones.