Exactly 17 November 2022, Xiaomi Indonesia officially launched the product newest tablet namely Redmi Pad in Indonesia. Previously, the Redmi Pad competed in the middle class or mid-range It has already been released for the European and Indian markets in October 2022.
Redmi Pad is the first tablet product made by sub-brands from Xiaomi namely Redmi. This proves that Redmi also doesn't want to be outdone by brands others by releasing and competing in the tablet segment.
Different from the global version, when it was launched in Indonesia, it was stated that this Redmi Pad was present for class entry-level but still carries the same theme, namely "All in One, Pad for Fun". In other words, this Redmi Pad can still be used in any activity, starting from productivity, watching, even playing games, and so on.
Interestingly, this Redmi Pad has features that support use by children or with children. One of its features is in the part of the screen that is safe for eye health. In addition, this Redmi Pad is able to store two different accounts so that children's use will be easier to supervise and comfortable to use together.
This Redmi Pad has quite high specifications and is tough in its class. Call it the MediaTek Helio G99, this chipset is a high-end chipset that is also used by high-powered HP. The wide screen it has is also quite comfortable because of it refresh rate up to 90Hz.
Wait a minute, the advantages possessed by this tablet are not only that, there are many other advantages possessed by this first Redmi series tablet made by Redmi. Before that, let's take a peek at the official Redmi Pad price for the Indonesian market as a benchmark for the specifications it carries.
Pricing and Availability
In its launch on November 17 2022, Xiaomi Indonesia stated that this Redmi Pad was sold at IDR 3,499,000. This Redmi Pad only has one storage variant, namely with 6GB of RAM which can be expanded by 2GB, bringing the total RAM storage to 8GB and equipped with 128GB of internal storage.
This Redmi Pad will be sold and released to the national market on November 25, 2022. You can buy it on the official Xiaomi website or store. You can also buy it at the Xiaomi Store which is available at marketplace your favorites such as Shopee, Lazada, Tokopedia, Blibli, and so on.
The advantages of the Redmi Pad
Before deciding to buy this Redmi Pad, you must first listen to the several sectors that are its advantages. The following are some of the advantages possessed by Redmi Pad.
High Performance Helio G99 Chipset
One sector that is the advantage of the Redmi Pad is the chipset it uses, namely the Helio G99. Helio G99 is a chipset flagship built by 6 nm manufacturing technology which has a high efficiency level.
This chipset is powered by the processor octa-core consisting of two cores Cortex A76 with a frequency of 2.2 GHz and six cores Cortex A55 with a frequency of 2.0 GHz as its power efficiency. Not only that, the performance it produces is also more optimal thanks to the graphics processing card, namely the Malu G57 MC2.
Apart from that, the Helio G99 chipset is quite widely used by high-powered cellphones. That way, you will be able to experience quite an interesting experience when playing games. Plus the RAM memory capacity of 6 + 2 GB LPDDR4X and internal UFS 2.2 128 GB, and supports external storage using microSD up to 1 TB.
Apart from playing games, this tablet is designed to be able to do anything quickly, for example work, read, surf the internet, to stream videos. You don't need to worry about running out of battery in the middle of an activity, because the Redmi Pad is equipped with an extra large battery capacity of up to 8000 mAh.
With this capacity, this tablet is ready to accompany all your activities throughout the day. Apart from that, the Redmi Pad is also equipped with features fast charging 18 W so that the charging process doesn't take too long.
Stunning Screens for Shared Activities
The capabilities of the Redmi Pad screen are too interesting and cannot be missed. How not, instead of having refresh rate stuck at 60 Hz like tablets in general, this Redmi Pad comes with refresh rate high is 90 Hz. You can comfortably play games quickly and responsively as well scrolling seamlessly.
In order to save even more power from your tablet, you can also set refresh rate only at 60 Hz while watching or automatically according to the activity being carried out.
Redmi Pad also has a screen that is quite large, reaching 10.61 inches and capable of producing resolutions up to 2K or 2000 x 1200 pixels. With a high screen and resolution, you can get a more immersive viewing experience, what's more, this screen is capable of producing more than 1 billion colors with a typical brightness of 400 nits.
With this ability, enjoy the experience of doing activities with the closest people such as family, even children with more fun.
To establish closeness with your family, you don't need to hesitate and worry about inviting your children to do activities and spend time together. You can invite your child to play, watch, read and learn using this tablet without worrying about eye health.
Redmi Pad pays attention to comfort and eye health for its users. This tablet screen has TUV Rheinland certification that can protect your eyes at all times. In fact, this Redmi Pad is the first tablet in the world to have SGS certification Low Visual Fatigue.
To make watching activities together more enjoyable, this Redmi Pad is equipped with four speakers that are quite loud, covered by Dolby Atmos technology. The four speakers are able to provide stunning surround sound like watching in the cinema.
8MP Ultrawide camera
One of the other advantages possessed by this Redmi Pad is its camera capabilities. Unlike other tablets, this Redmi Pad does not place the front camera above, but on the side which makes the tablet comfortable when used to make video calls in a landscape position.
Not only that, the front camera of the Redmi Pad also has a fairly high resolution in its class, namely 8 MP with a lens ultrawide wide enough to 105 degrees.
This Redmi Pad is also supported by features FocusFrame which is able to change the view to be wider automatically. This is done so that you can stay in the middle of the frame, even when someone new appears.
If you turn to the back, the Redmi Pad is also equipped with a rear camera with a resolution of 8 MP which is capable of producing high quality pictures and videos that are quite satisfying.
Luxurious Design With Metal Unibody
The advantages of this Redmi Pad seem endless. One of the most must-have advantages for every gadgets of course the outward appearance. Everyone definitely wants a tablet that looks luxurious and looks attractive when carrying it.
Don't worry, this Redmi Pad comes with an extraordinary Unibody design that has used metal material throughout its body. In addition, the flat frame shape and symmetrical bezel appearance make this tablet pleasing to the eye and comfortable to use.
The weight of this tablet is not too heavy, namely only 445 g with a thickness of up to 7.05 mm, including thin for the size of a tablet with a myriad of capabilities.
This Redmi Pad comes with two beautiful color variants that you can choose from, namely Graphite Gray and Moonlight Silver.
So, those are some of the advantages of the Redmi Pad as the first tablet product made by Redmi. Priced at a fairly affordable price, this Redmi Pad actually has quite a lot of advantages starting from its fast chipset, extra large battery, screen capabilities, speakers, to its design which looks quite luxurious.
So, how about it, are you interested in owning this latest Redmi Pad? Don't miss the first sales schedule starting November 25, 2022, OK?
Redmi Pad specifications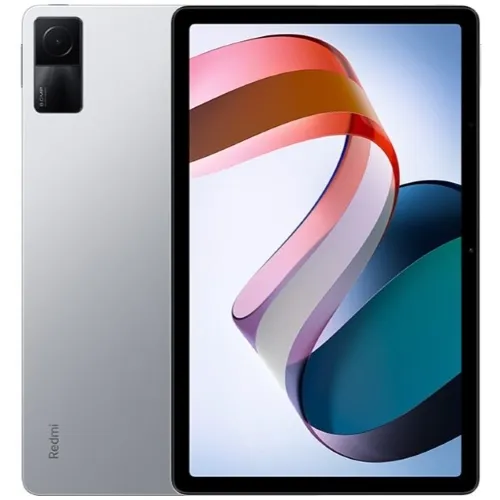 | | |
| --- | --- |
| Screen | 10.61 inch IPS LCD |
| Chipsets | MediaTek Helio G99 |
| RAM | 6gb |
| Internal Memory | 128GB |
| Camera | 8 MP (wide) |
| Battery | LiPo 8000 mAh |
| Advantages | Read here |