The need for tablet devices has increased since the Covid-19 pandemic occurred in various parts of the world. This is because tablets are the choice of many people in various age groups and various needs.
This trend then prompted Huawei, as a device manufacturer, to release a family tablet. It is the Huawei MatePad SE tablet that they introduced to the Indonesian public on Tuesday, November 1, 2022. The MatePad SE is claimed to be a tablet that versatile at affordable prices.
This tablet is suitable for supporting various daily activities. Starting from study, work, to play. This was conveyed by the Managing Director of Huawei Asia Pacific, Cheng Jiangfei, at the launch of the Huawei MatePad SE.
Meanwhile, Patrick Ru, Country Head of Huawei Devices Indonesia, said that the Huawei MatePad SE is a tablet specially designed to meet the needs of every family member.
"With the specifications and features offered, we believe that the Huawei MatePad SE can better support certain scenarios when compared to other devices such as smartphones, laptops and TVs," said Patrick Ru.
"MatePad SE is also able to answer consumer needs for affordable and reliable tablets for all family members." he explained.
Pricing and Availability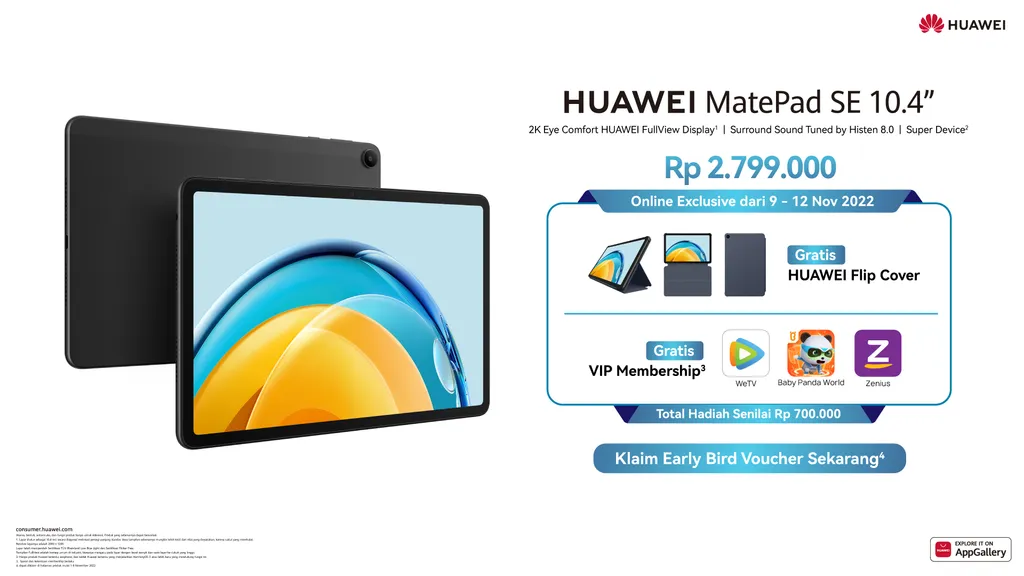 The Huawei MatePad SE will be exclusively available starting November 9, 2022 at the Huawei Official Store on various marketplace, such as Tokopedia, Shopee, Blibli, Lazada, and JD.ID. This tablet is priced at IDR 2,799,000. The available memory variant is 4/64 GB.
There are also easy installments of 0% for up to 6 months, complete with free shipping (postage) and an additional discount of IDR 111,000, specifically for purchasing HUAWEI MatePad SE during the promotion period early birds.
Not only that, Huawei also provides early bird vouchers worth IDR 50,000 which is only available at platforms e-commerce from 1-8 November 2022. Voucher early birds This can be found in the product description listed on the e-commerce platform.
Consumers can start claiming it starting November 1, 2022, and can use vouchers it from the 9th to the 12th of November 2022. Claim vouchers conducted at the Huawei Official Store at Shopee, Tokopedia, Blibli, Lazada and JDID.
Various prizes were given to consumers who bought the Huawei MatePad SE during the period early birds. The total prizes given have a nominal value of IDR 700 thousand. Consists of:
Huawei Flip Cover
Free WeTV VIP subscription for 6 months to be free to watch all content without ads
Free 3 months of Baby Bus VIP content
Free 1 month access to study packages from the Zenius application
Collaboration with Zenius is carried out to provide a comprehensive learning experience for every Huawei user. Huawei MatePad SE users can access hundreds of thousands of learning videos on the Zenius platform.
Promo
Besides early birdsHuawei also held a week Huawei SuperBrand Day on November 1-4, 2022. Via events With this, consumers have the opportunity to win exclusive promos on Tokopedia and Blibli.
Promos offered include discounts of up to 50%, free gifts worth a total of IDR 3 million, and vouchers up to IDR 500,000 for the purchase of the latest Huawei devices.
Especially for wearable and audio devices, the price discount given is 5%. In addition, for purchasing Huawei Band 7, consumers will get a special price of IDR 509,000.
The advantages of the Huawei MatePad SE
After knowing the segmentation, prices, and bonuses that will be obtained from purchasing the Huawei MatePad SE, now is the time for you to pay attention to what are the advantages. Here are some of the advantages that Huawei MatePad SE has.
2K Resolution Screen and Huawei Histen 8.0 Speaker
Huawei MatePad SE is equipped with a FullView screen that is comfortable for the eyes. The screen with the IPS panel has a diagonal of 10.4 inches, with a high 2K resolution. Thus, the tablet can provide an extraordinary visual experience with better graphics quality.
This tablet has also received dual certification from TÜV Rheinland, ie Low Blue Light and Flicker-Free for the comfort and safety of its users. Users don't need to worry that their eyes will get tired easily and their sleep cycle will be disrupted, even if they stare at the tablet screen for a long time.
What's interesting, the Huawei MatePad SE screen can automatically adjust the screen brightness automatically, with 4096 dimming levels. This cool screen is then combined with speakers that are no less good.
Yes, this tablet has two speaker stereo. The installation location is symmetrical on the right and left of the body, so it produces bass that boomed and treble sharp. This can create a more stable audio experience in various usage scenarios.
Speaker it is powered by Huawei Histen 8.0 technology, which was developed collaboratively by Huawei research labs around the world. Huawei claims, Huawei Histen 8.0 technology provides extraordinary audio effects with levels staging more pronounced over large areas.
Enjoyable Learning and Working Experience
Huawei MatePad SE is equipped with chipsets Qualcomm Snapdragon 680 which ensures high performance for tablets. It is also supported by the latest Harmony OS 3.0 operating system multitasking easier.
The operating system allows the MatePad SE tablet to run features Multi-Window and Multiplier App to increase productivity. According to Huawei, features Multi-Window has been enhanced in order to be able to meet the needs of users in different scenarios.
Multi-Window allows users to open up to 3 apps simultaneously. This is clearly easier to use multitasking for consumers. Meanwhile, features Multiplier App has also received an increase.
Users can now open a single app, such as an app e-commerce, in two different windows. This feature is useful for various situations, such as comparing product prices.
Access Extensive Apps from AppGallery
Huawei MatePad SE is inseparable from the support of AppGallery which provides a variety of important applications for consumers. Now AppGallery is even easier to use. Users can easily get their favorite apps.
Ranging from entertainment applications, lifestyle, to various applications for study and work.
In addition, this application store provides a variety of conveniences designed for the comfortable use of each user.
Users can easily transfer data to their new Huawei devices by using Phone Clones. Users can also download and updates favorite apps via AppGallery.
Not to forget, if you need help directly, you can contact a Huawei technician via the AppGallery. You can also call the hotline 007-8030-8520-888 which is ready to serve users every Monday to Friday from 09.00 to 18.00 WIB.
Suitable for the Whole Family Members
Using one gadgets for the whole family is often a challenge. Many challenges must be faced, ranging from privacy to safety for children.
Ario Pratomo and Nucha Bachri, who are known through the Curhat Babu podcast channel, shared their experiences on how to use tablets wisely so that they can support children's development.
For them, who are millennial parents, tablets are now not only for adults. Even children now need it considering the many activities that are carried out online on line. Ario and Nucha view children's interactions with tablets as positive.
The reason is, children become more understanding of technology and know how to do something gadgets support their needs.
"We see tablets as devices that can answer our family's needs. Tablets are devices that we can use," said Ario and Nucha.
"Good for entertainment, completing tasks, and light work, which even in certain scenarios can replace the role of three such devices smartphoneslaptop and TV," they explained.
On the other hand, continued Ario and Nucha, parents still have to monitor usage gadgets children. Through the named feature Kids Cornerparents can monitor their child's use of Huawei MatePad SE.
Parents can set usage time limits, as well as allow what functions they can access on the tablet. This allows children to have a balanced allocation of time between learning and playing.
"HUAWEI MatePad SE is a device that can be used by all family members and really helps us meet these needs, but still gives us control over what children can access," said Ario and Nucha.
So, that's a review of what interesting things the Huawei MatePad SE has. If you view the price, this one tablet is fairly affordable. Its features and specifications are one of the best in its class. Interested in proposing Huawei MatePad SE?
Huawei MatePad SE specifications
| | |
| --- | --- |
| Screen | 10.4 inch IPS LCD |
| Chipsets | Qualcomm Snapdragon 680 |
| RAM | 4gb |
| Internal Memory | 64GB |
| Camera | 5 MP (wide) |
| Battery | LiPo 5100 mAh |
| Advantages | Read here |