Infinix Hot 12i officially arrives in Indonesia in April 2022 to fill the Hot series line. Because it has an "i" appendage behind it, this Infinix Hot 12i is a simpler version of Infinix Hot 12 regular. As a simple version, Infinix Hot 12i is of course offered at a lower price too.
This cellphone is priced at a fairly cheap price, which is IDR 1.5 million. This price has a fairly visible difference with the regular version. Infinix Hot 12 will be released in May 2022 and priced at IDR 2 million.
Even though it has a lower price, the Infinix Hot 12i still has a number of the distinctive charms of Infinix products, for example by bringing a magnificent design and a large enough battery capacity for its price class.
With a battery capacity of 5000 mAh embedded in it, this cellphone will be suitable for use for heavy activities for long periods of time, including playing games or watching movies. This cellphone is also supported by Cinematic DTS Audio Processing which is able to increase loudness and sound quality for the better.
Not only that, for added convenience in use, the Infinix Hot 12i has a Power Marathon feature which Infinix claims can increase battery life by up to 25%. You can also set your own battery saving because it has 8 main settings for battery life.
How, are you interested in this HP? Want to know more about Infinix Hot 12i? Don't worry, the Caris Signal team has the opportunity toreviews the HP. So, to get rid of this curiosity, please refer to the full Infinix Hot 12i review article below.
Specifications for Infinix Hot 12i
Screen
6.6 inch IPS LCD
Chipsets
MediaTek Helio A22
RAM
4gb
Internal Memory
64GB
Camera

13 MP (wide)





0.2 MP (AI)





0.2 MP (AI)


Battery
Li-Ion 5000 mAh
Advantages
Read here
Sales Package Contents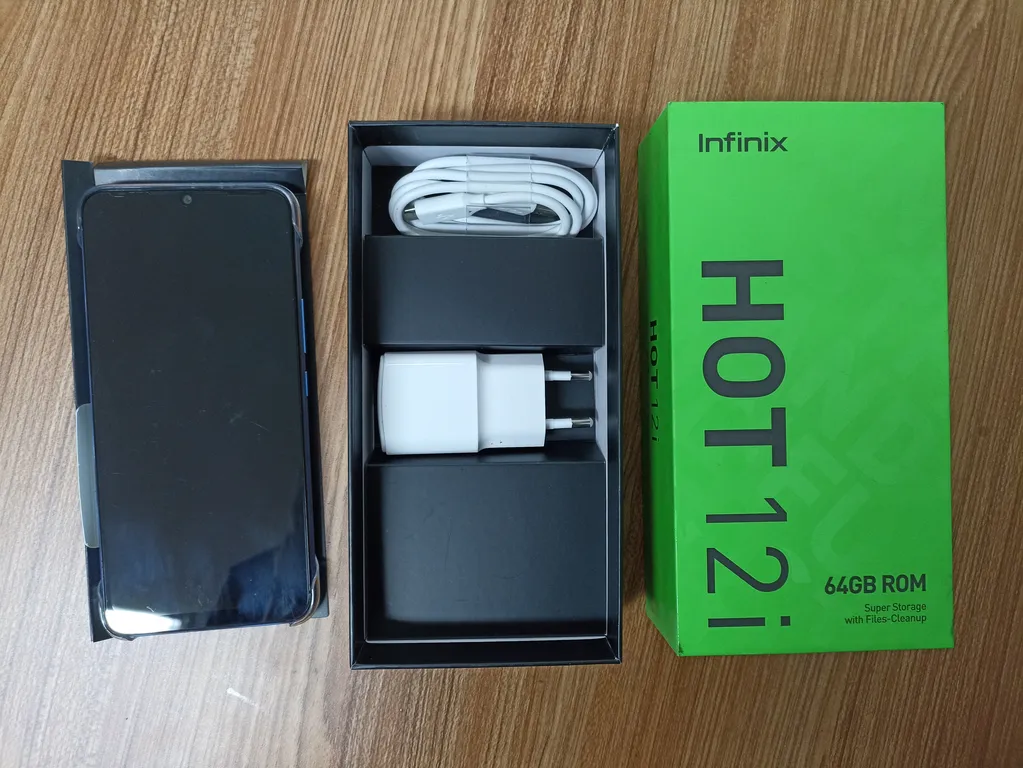 Infinix Hot 12i comes with a green packaging with the words "HOT 12i" very large, almost filling up half of the space. If you look closely, there is the words "FAST AND FUN" that appear slightly as a background but with the same color. So that the writing will be seen when it is in the right position with the light.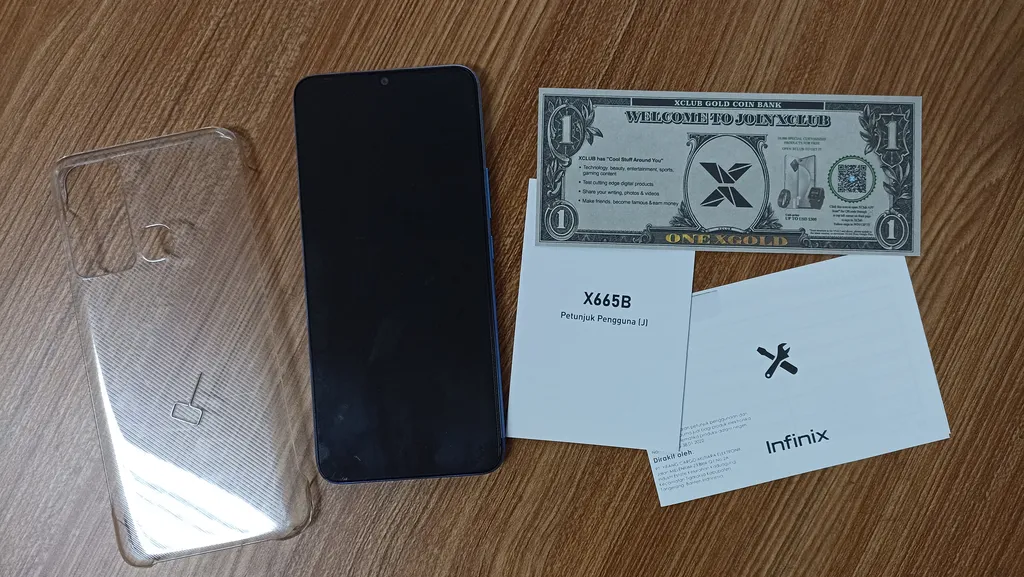 In it, you will find a unit of HP Infinix Hot 12i which has been coated with anti-scratch, manual, SIM ejector, case transparent, One X-Gold shaped like money, and heads chargers Complete with data cable.
Design
When we first saw the back of the Infinix Hot 12i, we were a little surprised and stunned by the design shown. The reason is, there are no high expectations considering that this cellphone is a cheap cellphone. However, the Infinix Hot 12i offers an attractive design in its class.
The interesting thing about the design of the Infinix Hot 12i is that there are accents of fine lines which are a bit faint. If you pay attention, the accent line is made in two different directions, namely vertically and horizontally so that it looks like a lightning effect. Because it is made faint, the accent lines will be visible if exposed to light reflections at the right angle.
Not only that, the rear body of the Infinix Hot 12i also looks more attractive with trendy colors and carries a 3D themerhythm. The color is made with subtle gradations from top to bottom which gives a youthful and lively impression. The unit we use is a blue color called Horizon Blue.
For the Horizon Blue variant, the blue color that is displayed really lights up with gradations that look elegant. However, it returns to the tastes of each user. For information, the Infinix Hot 12i comes in four color variants, namely Horizon Blue, Racing Black, Daylight Green and Champagne Gold.
Still on the back, the Infinix Hot 12i has a camera module filled with three vertical camera arrays equipped with a light flash beside him. In addition, next to the module there is a fingerprint sensor to open the locked screen. Being in the middle, this sensor is quite easy to reach and has a fast response.
Turning to the front, Infinix Hot 12i carries a screen waterdrops or a waterdrop as a place for the front camera or camera selfies. In addition, the camera also functions to support features facial recognition i.e. unlocking the locked screen using facial recognition.
When tested, this facial recognition feature is able to function properly. The response given is quite fast in recognizing faces so that the process of opening the cellphone is also faster.
On the left side of the cellphone body it looks quite clean with only SIM 1 and SIM 2 card slots and a special slot for microSD up to 512 GB capacity.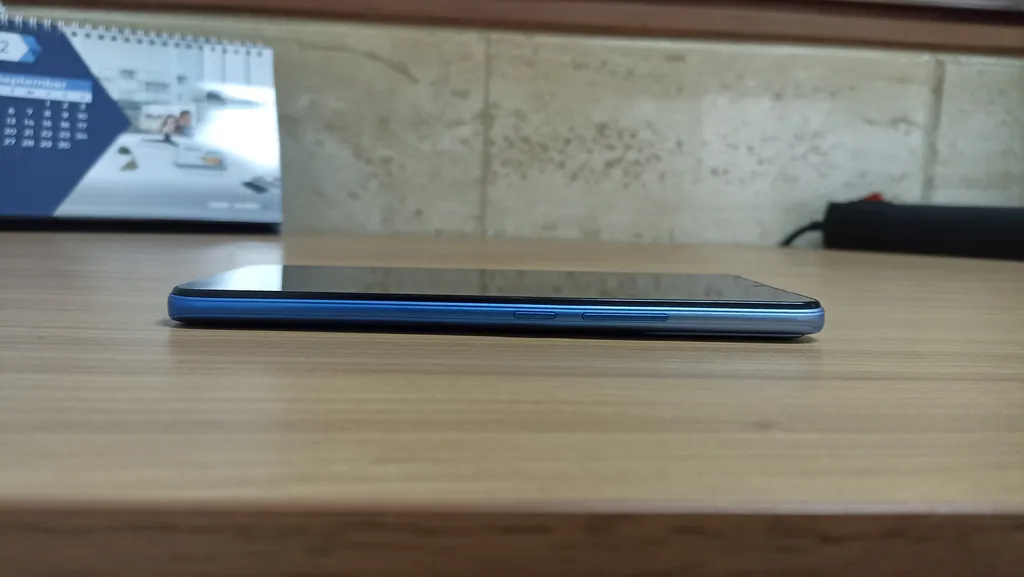 Not only the left, the right side of the HP body only has the volume up and down buttons combined, and the power button. Actually, the button design that places the volume and power buttons on one side is a little difficult to do screenshots with one hand. However, this design can give a neat and clean impression.
Carrying a simple design, Infinix Hot 12i doesn't even place anything at the top of the body.
Unlike the other side, at the bottom of this cellphone it is quite crowded. At the bottom there is a 3.5 mm audio jack, USB 2.0, and speakers. Even though it doesn't yet support USB type-C, that's understandable considering that this cellphone is in a low price class.