Generation Z aka Gen Z grew up in an expressive culture. They are used to pouring out anything on social media. It's not uncommon for Gen Z to upload photos and short videos that are now familiarly called content. There are also Gen Z who use "Mabar" (play together) games to make friends.
Such a trend is captured by Samsung Indonesia quite well. Samsung also offers a brand-new middle-class cellphone that is considered capable of accommodating all Gen Z activities. The cellphone in question is the Samsung Galaxy A23 5G.
MX Product Marketing Senior Manager for Samsung Indonesia, Ricky Bunardi, acknowledged that the Galaxy A23 5G was presented to meet the needs of Gen Z.
"Samsung is enriching the Galaxy A Series line with the Galaxy A23 5G. Smartphones it presents a variety upgrades from its predecessor to support the younger generation to express their passion and live their digital lifestyle," said Ricky, in a virtual press conference on September 26, 2022.
Ricky added that the Galaxy A23 5G is the successor to the Galaxy A22 5G which was released in 2021. Compared to its predecessor, the Galaxy A23 5G has experienced improvements in various sectors. Starting from performance, camera capabilities, to charging support.
Pricing and Availability
The Samsung Galaxy A23 5G is available online as well as offline starting September 19, 2022. However, Samsung is providing special offers to consumers who buy the Galaxy A23 5G in the period September 23-30 2022.
This special offer is in the form of a total bonus of up to IDR 552,000. The items included in the bonus include free 2 months of YouTube Premium, 3 months of Spotify Premium, and 6 months of Samsung Care+.
In addition, consumers can also get cashback trade-in worth up to IDR 300,000 and the main quota for one year from IM3 is 252GB. One more thing, the Galaxy A23 5G is also accompanied by a 15W Travel Adapter which is available immediately upon purchase.
The Galaxy A23 5G is available in one memory variant, namely 6GB of RAM and 128GB of internal memory. The color options offered are Orange, Black and Light Blue.
Reasons Why the Samsung Galaxy A23 5G is Suitable for Gen Z
As mentioned in the opening paragraph, the Samsung Galaxy A23 5G was created for Gen Z. The question is, why does this cellphone deserve to be a mainstay for Gen Z. Here's a detailed explanation.
1. Speeding Performance
Gen Z interaction with smartphonesrelatively intense. They not only consume content, but also produce it. Therefore, the Galaxy A23 5G is powered by a SoC speeding namely Snapdragon 695 from Qualcomm.
This SoC confirms the Galaxy A23 5G anti-lag when Gen Z opens social media applications, edits content, to play games. When compared to the Galaxy A22 5G, the capabilities of the Galaxy A23 5G have increased by 24% in terms of computing capability (CPU), and 22% in terms of graphics processing (GPU).
The Snapdragon 695 is supported by 6GB of RAM and 128GB of internal storage. RAM can still be expanded up to 6 GB via the RAM Plus feature. Meanwhile, storage can be expanded with a special microSD slot up to 1 TB.
The Galaxy A23 5G is also equipped with NFC. This feature makes digital transactions easier seamless. You can make payments just by touching smartphones to a specific payee.
2. Camera with Fun OIS for Photos and Videos
A research from Kepios shows that the number of social media users in Indonesia continues to grow. The increase is 12.6% during the 2021-2022 period. There are around 191.4 million social media users in Indonesia, youth (Gen Z) is one of the largest user groups.
Social media is clearly a place for Gen Z to upload various content. Hence the camera capabilities smartphones qualified is mandatory. The camera is also a sector that is highlighted by Samsung on the Galaxy A23 5G.
Smartphones It is equipped with four rear cameras and one front camera. The four rear cameras of the Galaxy A23 5G consist of a 50 MP main camera, a 5 MP ultrawide camera, and two 2 MP cameras, each of which is a depth sensor and a macro camera.
Meanwhile, on the front there is a camera selfies 8 MP. All the Galaxy A23 5G cameras are prepared to produce quality content on various social media platforms, including TikTok and Instagram.
Some of the mainstay features embedded in the Galaxy A23 5G camera include OIS, night mode and, 10x Zoom. Regarding OIS (Optical Image Stabilization), this feature helps the camera stabilize video recordings and photo shots.
OIS will coexist with EIS (Electronic Image Stabilization) in minimizing shake. You don't need to be afraid of blurry images when recording videos while walking or cycling.
OIS also helps night mode work more effectively. Hand shake is dampened by OIS, as the camera tries to capture more light at night. The night mode feature is a weapon for you to produce great photos, such as photos of cities with lights at night.
Finally, about 10x Zoom, this feature makes the camera capture clear even though the object is in the distance. There are many more features that the Galaxy A23 5G camera has to produce quality content. For example, like portrait mode to make bokeh photos and macro mode to make photos of beautiful flowers and delicious food in person close up.
3. Long Lasting Battery
The Galaxy A23 5G is supported by a large battery with a capacity of 5000 mAh. It's not without reason that Samsung has provided this smartphone with a large battery. Because, according to Kepios, 94% of Indonesian people browsing with an average duration of 5 hours per day.
Indonesian people are very literate in the digital world. They carry out various digital activities. Starting from communicating, seeking information, working or studying, enjoying entertainment, to fulfilling daily needs.
Content production activities carried out by Gen Z are also well accommodated thanks to the Galaxy A23 5G's 5000 mAh battery. They can create content for hours without worrying about the cellphone battery running out quickly.
Moreover, there are also features Adaptive Power Saving which makes battery consumption more efficient. Charging the Galaxy A23 5G battery doesn't even take long. The reason is, this cellphone is supported by technology 25W Fast Charging pretty tight.
4. Smooth and Responsive Screen
The Galaxy A23 5G carries a large 6.6-inch Infinity-V Display screen which provides a wide and complete view. The screen with the PLS LCD panel is claimed to make you more satisfied at the moment marathon movies and series which again trendingnor checkout coveted item in e-commerce.
In addition, with a high FHD + resolution, this HP screen can feast your eyes on clear picture quality binge-watching series which again trending so it's more fun.
Interestingly, the Galaxy A23 5G screen is also equipped with refresh rate 120 Hz, so you can be more comfortable when reading for long threads viral on Twitter, scrolling non-stop on TikTok and Instagram.
Refresh rate 120 Hz also works motion moment big game so smooth. The Galaxy A23 5G screen also supports it touch sampling rate 240Hz. This means that the HP screen is quite responsive when receiving touch commands. play games so it's even more fun.
5. AR Zone feature for fun
So that the content you produce is more unique and different from the others, you take advantage of features AR Zone. This feature allows you to freely express yourself with personalized emojis, so you can invite lots of likes on social media.
You can make emoji characters according to facial expressions, then embed them in video or photo content on the IG Reel or TikTok. You can also edit expressions and outfits as you wish in this one feature.
Interestingly, there are features emoji masks that turns you into an animated character, giving you the freedom to go even further. Besides that there is AR Doodles to make aesthetic doodles, and AR Emoji Stickers to make emoji to make it more attractive and more in line with personality.
So, those are five reasons why the Galaxy A23 5G is suitable for Gen Z. Judging by the features and capabilities offered, it seems that this cellphone is suitable for supporting various activities for young people. What do you think, is the Galaxy A23 5G worth asking for?
Specifications for the Samsung Galaxy A23 5G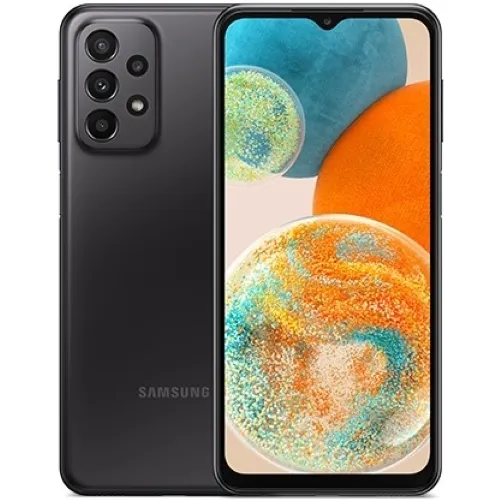 Screen
6.6 inch PLS LCD
Chipsets
Qualcomm Snapdragon 695
RAM
6gb
Internal Memory
128GB
Camera

50 MP (wide)





5 MP (ultrawide)





2 MP (macro)





2MP (depth)


Battery
LiPo 5000 mAh
Advantages
Read here